Mirror screen is one of the best way to enable your live stream into a big screen here we talk about how to connect chromecast with laptop. Yes! Its one of the simple way to watch movies on TV monitor when all your friend are gather.
What is chromecast?
Many people ask this question so the answer of this its the simple way to connect your devices like mobile, laptop, with your TV or LCD, LED etc. This is one of the most famous chomre tech gadget that allow its user to connect its device with multiple television monitors.
Chomecast help you to watch interrupted streaming any where without any smart TV. You can also connect your laptop with yout TV monitor without chromecast but! for that you need HDMI ports to connect these two devices. So if you dont like a bunch of wires chromecast is the best option for you. When ever you need it you can just connect it and here you go…
What does Chromecast do?
Chromecast is a mirror screen connection between your laptop or your TV monitor when you connect it with your TV and laptop you can watch the screen of your laptop your Tv monitor. Like if you want to share your laptop screen on your TV to watch YouTube, any other Google Play or any other thing from your laptop you can share.
So in simple wording its just a connection between your laptop and TV screen to watch movies or any thing on TV monitor.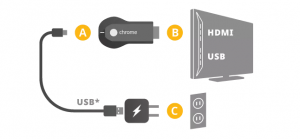 How to setup chromecast with your laptop?
First thing you need is the latest google chrome version on your laptop.
Open the google chrome on your laptop.
When you want to start streaming just click on three dots upper right corner.
Select "cast" and choose the available chrome cast device that you want to connect with your laptop.
If you have more then one devices within your range it will show you different options. So you can choose the desire device that you want to connect.
Click the "source" button to activate the drop down list then you see the three options to choose
Cast tab this will only show the active screen of your laptop on your TV screen
Cast desktop which show everything of your laptop screen on TV even you are not browsing
Cast file this option only show the selected file on your TV screen.
Once its connected you can watch everything from your laptop to your TV screen.
As an Amazon Associate, I earn from qualifying purchases. Some of the links in this article are affiliate links. This means that, at zero cost to you, I will earn an affiliate commission if you click through the link and finalize a purchase.
Sound issue with chomecast connection.
Some time we connect chromecast with our laptop and TV screen but we cannot hear any sound so check is your laptop sound is enable. Or when you are watching from social media like YouTube make sure that the sound from YouTube is enable.
Only visible a portion of screen?
Sometime you connect wrong choice like "Cast desktop" and "Cast Tab". one more thing some time you zoom in so its shows specific part of your laptop screen at your TV monitor. In this situation click on three dots of right hand cornet and ensure the Zoom size is at %100. We try our best to cover all the issue that people commonly face in connecting chrome cast hope that you find this article helpful for you.
How much chromecast cost?
Chromecast price is around $35-$50 and its only one time cost. You don't need to pay monthly subscription.
Why i need chromecast device?
You can want to see movies such as netflix or Hulu on you TV screen you can do it with this device.
Can i control chromecast with voice?
Yes you can control chromecast with your voice once you develop wireless connection after that you can do anything with your voice command.
Can i buy chromecast from amazon?
No! till i am writing this piece of content you cannot buy it from amazon but hopefully in near furure you can be able to buy it from amazon.
Hope that we answer most probably asked question regarding chromecast if not you can ask us by contacting us.
Can i connect chromecast with any laptop?
Yes you can easily connect chromecast with any basic or cheap laptop.