Are you looking for "How to use the laptop as a second monitor???" Here is the answer to your question. Its pretty simple to connect your PC with your laptop and use it as a second monitor. There are different ways to connect your laptop with your PC and use it as second monitor. But we will try to make it much easier as we can.
How To Use a Laptop as a Second Monitor
Some people think they can easily connect their laptop with some HDMI Splitters and use it as second laptop they are totally wrong because you can only connect this way to cast your screen on your laptop that won't work as a video input for another device.
No technical skills are required to do this with the screenshots you can easily know how easy it is so Let's start!
Use laptop as a second monitor in window 10
There are many other ways to connect your laptop with your PC and use it as a second monitor but here we will discuss use a laptop as a second monitor in window 10. So follow these steps and connect your laptop with your PC and enjoy it!
Step 1
Go to the "start menu" and click on "settings"
Step 2
Press on the "system icon"
Step 3
Look for the "Project on to this PC" you can find it on the left menu
Step 4
Allow the other object on it and change the first drop down menu to "Available Everywhere" below in the second menu "Every time a connection is requested" and 3rd menu bar "Required PIN for Pairing" you can select it as "First Time" that make it batter as a security point of view.
The last one is "This PC can be discovered for projection only when it's plugged into a power source" option if your laptop is not plugged into a power source.
After these simple steps now your window 10 laptop is ready to use as a second monitor for projection.
Here make sure that both laptops and PC are connected with the same internet Wi-Fi connection.
Now comes to the PC setting to connect it with the Laptop screen.
On your PC from where you want to project go to the Settings > System > Display. Find the "Multiple displays" option then click on "Connect to a wireless display"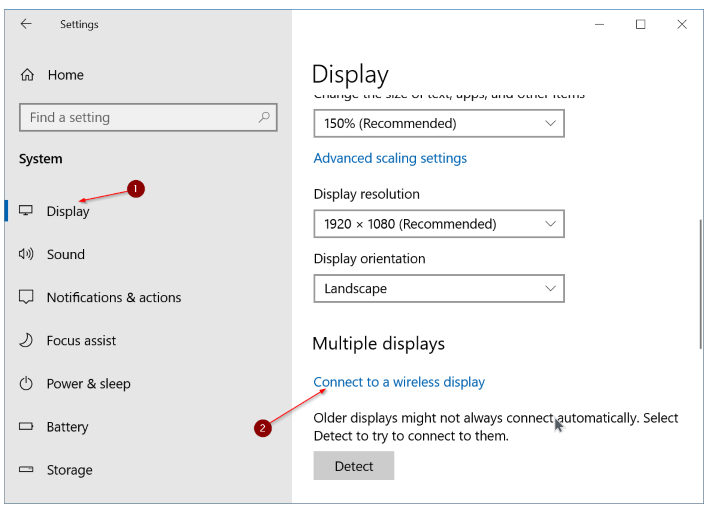 It will search for connection and soon find the laptop for projection click on the laptop name to connect with your PC.
Now on a laptop you will get a prompt. After selecting the drop down options click on "OK" Then you have to configure with a required "PIN" type the PIN shown to continue.
To enable input on the screen you can also select "Allow mouse, keyboard, touch, and pen input from this device" option.
After all the small bar appears on the screen during the projection you can also choose different options by clicking on setting (icon) and choose between gaming, working, and watch video.
So change the setting you can also press "Windows logo + P" to change the mode. If you want to "Disconnect" click on disconnect to terminate the connection.
Method 2 connect laptop screen using a third-party tool
Here is the system requirement to use laptop as second monitor
For Primary PC
Windows 10 (version 1607 – later only), 8.1 & 7.
Graphics adapter NVIDIA/AMD/Intel/Basic Display.
WDDM 2.6/2.5/2.4/2.3/2.2/2.1/2.0/1.3/1.2/1.1
DirectX 12/11/10/9
For Secondary Monitor
Windows 10 / 8.1 / 7
DirectX 10
DirectX WARP (Min. 800 MHz CPU / Min. 512MB RAM)
If you are not satisfied with the Miracast method to use laptop as a second monitor. You can also use third-party applications available. Here we will talk about space desk viewer for primary and secondary laptop.
For laptop download "Space Desk Viewer Software for Secondary Machine" will be used as the second monitor. For the main PC simply download "Space Desk Drive Software for Windows Primary PC".
Now follow the steps after installing software on both Laptops and PC.
Make sure both system in connection with the same LAN or Wifi Network
Go to the laptop and launch the application
System will automatically detect your primary computer on the list.
recognized your system and click on connect.
In some rare cause if your system cannot connect with then you can check the IP address of your PC copy that IP address and in laptop paste that on laptop screen and click on connect.
Benefits of using multiple screen.
As you understand the process of connecting multiple screens with a system. with these methods, you can use another screen as a secondary and third screen. You can use these multiple screens for gaming laptops, to watch the video you can use multiple screens and you can also use these multiple screens for programming.
Also Read about