PS5 vs. PS4: A Comprehensive Guide Before Buying
PS5 vs. PS4: Pick Up What is Best for You
Most of Sony's PlayStation users are in confusion as PS5 hits the market. You may also be struggling to decide whether to continue with PS4 or buy the new PS5 console, following the revolutionary trend.
For this reason, we have carried extensive research to bring a PS5 vs. PS4 comparison in detail for you. It will cover all the necessary things, including price, specs, design, storage, etc., that you must know to make the right choice.
PS5 vs. PS4 Comparison
There is a significant difference between PS4 and PS5 due to the age gap. Sony's new PS5 entered the gaming market in November 2020, whereas the previously existing PS4 came much earlier in the year 2013. In addition, the mid-generation model – PS4 Pro came in 2016 is far much updated and comparable to PS5.
Design & Size – How Big Is The PS5?
The new PS5 is what having the capability to draw your attention the most with its not-so-traditional white color and unique outlook. But you must have heard about its enormous size, wondering how big the PS5 is? Yes, the device is a bit larger due to its rounded style and heavier weight than the PS4 console. You may find it difficult to fit under the TV.
Although PS4 has a more familiar design incorporating standard black color, straight lines, and a slimmer look, PS5 looks more appealing even with slightly big size and rounded features. It seems like it has adopted the visuals from the prior generations.
Specifications – Why PS5 Is Considered More Powerful?
Comparing PS5 vs. PS4 in terms of power is unfair as the latest one wins the battle due to numerous reasons like recent technology. PS5 contains the most advanced AMD Zen 2 processor that delivers 3D audio and 8K Video processors. In contrast, the PS4's AMD Jaguar chip works best for the 1080p HD video that is not the trend anymore. But PS4 Pro is considerable as it also supports a 4K video display.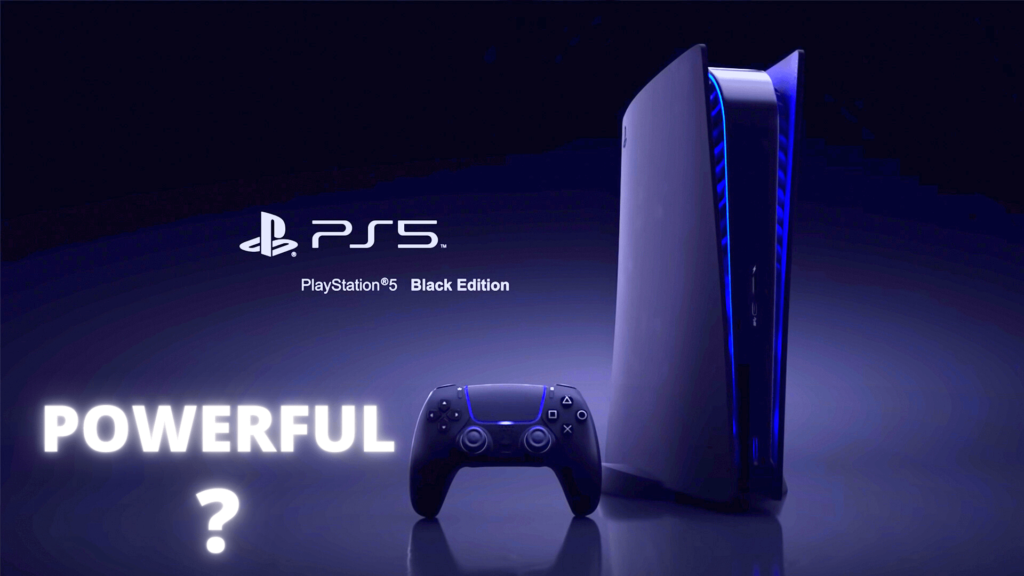 Moreover, PS5 sports a faster GPU of 2.23 GHz that improves the gaming experience than 0.8 GHz of Sony's PlayStation 4. This new console has more storage as it has a custom 825 GB SSD, while PS4 contains only a 500GB HDD that loads games many times slower. In terms of RAM, PS5 has 16GB that is twice the 8GB in PS4. Moreover, PS5 allows larger display at higher frame rates, i.e., 120 fps compared to 60 fps of the PS4 console.
Consequently, PS4 lacks several extra empowering features. That is why it loses the battle against the new PS5.
PlayStation 5

PlayStation 4

CPU
8 Zen 2 Cores @ 3.5GHz (variable frequency)
8 Jaguar Cores @ 1.6GHz
GPU
10.28 teraflops, 36 CUs @ 2.23GHz (variable frequency)
1.84 teraflops, 18 CUs @ 800MHz
Memory/Interface
16GB GDDR6, 256-bit
8GB GDDR5, 256-bit
Memory Bandwidth
448GB per second
176GB per second
Internal Storage
Custom 825GB SSD
500GB HDD
IO Throughput
Raw: 5.5GB per-second
Compressed: Typical 8-9GB per-second
Around 50-100MB per-second
Expandable Storage
NVMe SSD Slot
Replaceable internal HDD
External Storage
USB HDD Support
USB HDD Support
Optical Drive
4K UHD Blu-ray Drive
Blu-ray Drive
Interface – How PS5 and PS4 Differ Internally?
There are not so many internal design-related changes comparing PS5 vs. PS4. They both possess a horizontal main bar with a vertical sub-menus. However, the apparent difference can be the splitting of both apps and games in separate columns. It has eased the process of finding things as compared to PS4, in which you have to sort out games and apps by yourself from a single menu. Hence, this slight modification has successfully improved the quality of life.
Price – Why PS5 Costs More than PS4?
Taking factually, anything with added features and benefits costs more than usual. So, the expensiveness of the new PS5 console is entirely justified in this regard.
The price of this fantastic PS5 console is $499.99, whereas the price of the PS4 is $399.99. In addition, the digital edition of PS5 costs $100 less than the physical one as it lacks an optical disc. Even though both versions come with 825GB of SSD storage, but paying some extra money worth the upgraded technology with the outclass gaming adventure.
Besides that, PS4 came in 2013 is then upgraded by its later PS4 slim version in 2016. It has 500GB storage and costs $299 only, whereas the PS4 Pro version with 4K-capable costs $399.
So, if you are short on budget, then PS4 is not that bad to opt for gaming. Nonetheless, PS5 is what deserves to get your hands on.
Controller – What's New in PS5 Controller?
Sony has finally launched a Dual-Sense controller in PS5 with a unique style yet revised shape. It is based on haptic feedback with touch sensors, unlike PS4 and all prior generations having Dual Shock Line controller with classic buttons configuration.
This tremendous new PS5 console involves almost all the most favorite features of the previously existing generations. It additionally offers more immersive control with improved rumble features, battery life, and tactile triggers that you would love to play. The PS5 controller has an integrated mic to let you communicate with your friends while playing. You would not have to bother about your gaming headsets anymore.
Moreover, PS5's 'Share' button has replaced the create button in PS4. It allows you to go live stream, promoting social friendliness.
Storage – Which PlayStation Has The Maximum Storing Capacity?
PS5 does not seem to improve much of its storage disk as compared to the PS4 model. This new console offers 856GB whereas the PS4 one supports 500GB and PS4 Pro has 1TB HDD. It seems that PS5 has less storage; however, the differentiating point is that PS5 can use SSD with a bandwidth of 5.5 GB. It not only grants extra storage but also enhances gaming performance. The game files can be delivered to the system faster than ever before, i.e., even in seconds. Consequently, the PS5 runs faster than the PS4's hard drive.
Games – Is PS5 Compatible with PS4 Games?
The most exciting thing for PS4 gamers is that the PS5 console is fully compatible with PS4 games. It allows and supports you to play all of your PS4 games except a few. However, the opposite is somewhat functional, too, as Sony has assured that the copy of the most popular titles of PS5 will be available there on PS4 Pro. So, if you already have a PS4, then there is no need to rush or buy the new one.
On the other hand, buying a PS5 allows you to enjoy the perks of both versions. In addition, PS5 has also introduced a subscription feature that offers the 20 best titles of PS4 for $5 per month. The new PS5 console includes a wide range of exclusive titles, such as Ragnarok, Gran Turismo 7, etc., that are playable on PS5 only.
So, if you want to play the upcoming blockbusters, you must go for Sony's PlayStation 5.
Final Verdict
The significant difference between PS4 and PS5 is that of the capability. PS4 may suit best to your budget, but you will regret missing the cutting-edge technology of PS5. The new console is a more powerful generation with high backward compatibility that does not let you miss any previous games or features. Hence, it is an ideal faster box that gives you a next-gen gaming experience.
If you already have a PS4 console, then the upgrade relies on your choice. You can ask yourself why you need to jump to the new console. We hope this PS5 vs. PS4 comparison helps you pick up what is best for you.