PS5 vs. PS4: A Comprehensive Guide Before Buying


The PlayStation 5 has finally arrived, and gamers everywhere are wondering if they should upgrade from their trusty PS4. There's no simple answer, as it depends on a variety of factors. For instance, if you're already happy with your PS4 and don't feel the need for any of the new features offered by the PS5, then there's no need to upgrade.
On the other hand, if you're looking for the latest and greatest gaming experience, then the PS5 is definitely worth considering. Ultimately, it's up to you to weigh the pros and cons and decide which console is right for you.
PS5 vs. PS4 Comparison
The PS4 came out in 2013, making it nearly 8 years old at this point. In comparison, the PS5 is a sprightly young thing, having only been released in 2020.
Design & Size – How Big Is The PS5?
We all know that the PS5 is a pretty big deal. But just how big is it, really? Let's take a look at the design and size of the PS5 to get an idea.
The PS5 is a console that is absolutely massive. It measures in at 14.17 inches wide, 9.84 inches deep, and 4.09 inches tall. That makes it about the size of an Xbox Series X. However, the PS5 is much lighter than the Xbox Series X, weighing in at just 9 pounds.
As for the design, the PS5 definitely looks like a next-generation console. It has a sleek white finish with blue accents. The top of the console has a large vent area to help keep it cool. And there are two USB ports on the front of the console for easy access.
So there you have it! The PS5 is a seriously big console that packs a lot of power. But don't worry, it won't take up too much space in your living room.
As an Amazon Associate, I earn from qualifying purchases. Some of the links in this article are affiliate links. This means that, at zero cost to you, I will earn an affiliate commission if you click through the link and finalize a purchase.
Specifications – Why PS5 Is Considered More Powerful?
Comparing PS5 vs. PS4 in terms of power is unfair as the latest one wins the battle due to numerous reasons like recent technology. PS5 contains the most advanced AMD Zen 2 processor that delivers 3D audio and 8K Video processors. In contrast, the PS4's AMD Jaguar chip works best for the 1080p HD video that is not the trend anymore. But PS4 Pro is considerable as it also supports a 4K video display.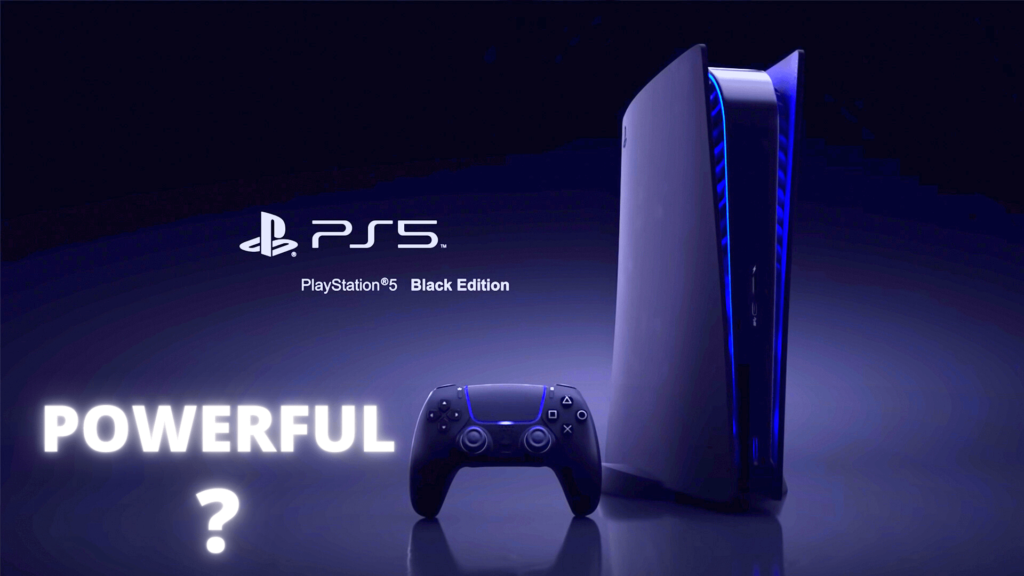 Moreover, PS5 sports a faster GPU of 2.23 GHz that improves the gaming experience than the 0.8 GHz of Sony's PlayStation 4. This new console has more storage as it has a custom 825 GB SSD, while PS4 contains only a 500GB HDD which means that games load a lot slower. In terms of RAM, PS5 has 16GB that is twice the 8GB in PS4. Moreover, PS5 allows larger display at higher frame rates, i.e., 120 fps compared to 60 fps of the PS4 console.
In short, PS5 is considered more powerful because of its specifications. But what does that mean, exactly? PS5 boasts a faster CPU, a custom graphics processing unit (GPU), and a whole host of other improvements over its predecessor. Combined, these upgrades result in better performance across the board. And that's just the hardware.
On the software side, PS5 benefits from some exclusive titles and an improved user interface. So when it comes to raw power, PS5 has a clear advantage over PS4. But as they say, it's not just about the destination—it's about the journey. And with PS5, you're in for one heck of a ride.
PlayStation 5

PlayStation 4

CPU
8 Zen 2 Cores @ 3.5GHz (variable frequency)
8 Jaguar Cores @ 1.6GHz
GPU
10.28 teraflops, 36 CUs @ 2.23GHz (variable frequency)
1.84 teraflops, 18 CUs @ 800MHz
Memory/Interface
16GB GDDR6, 256-bit
8GB GDDR5, 256-bit
Memory Bandwidth
448GB per second
176GB per second
Internal Storage
Custom 825GB SSD
500GB HDD
IO Throughput
Raw: 5.5GB per-second
Compressed: Typical 8-9GB per-second
Around 50-100MB per-second
Expandable Storage
NVMe SSD Slot
Replaceable internal HDD
External Storage
USB HDD Support
USB HDD Support
Optical Drive
4K UHD Blu-ray Drive
Blu-ray Drive
Interface – How PS5 and PS4 Differ Internally?
Let's face it, the PlayStation 4 was a pretty incredible console. But Sony has outdone themselves with the PlayStation 5. Not only is the PS5 more powerful, but it also has a range of new features that make it a true next-generation console.
One of the most noticeable differences is the interface. The PS4's interface was clean and simple, but the PS5's interface is even sleeker and more user-friendly. The main menu is now organized into tabs, making it easier to find what you're looking for. And when you're playing a game, you can now use the "Activity Cards" to quickly jump to specific challenges or tasks.
The PlayStation 5 is also equipped with a new "Control Center" that provides quick access to vital information like game settings and social features. Overall, the PlayStation 5 is a major step up from the PS4 in terms of both power and features.
Price – Why PS5 Costs More than PS4?
The video game industry is always evolving, and with each new console release, there are bound to be some differences in price.
So why does the PS5 cost more than the PS4? Well, there are a few reasons. First, the PS5 has more powerful hardware than the PS4, which means that it can offer gamers a more immersive and realistic gaming experience. Additionally, the PS5 comes with a built-in Blu-ray player and support for 4K resolution gaming, both of which are features that are not available on the PS4.
Finally, the PS5 also comes with a new controller that features haptic feedback and adaptive triggers, providing a more immersive and intuitive gaming experience. Ultimately, the higher price tag of the PS5 is due to its superior hardware and features.
Controller – What's New in PS5 Controller?
PS5 controller is the newest innovation from Sony. The most notable change is the total redesign of the DualShock 4.
The new controller now has a built-in speaker and haptic feedback, which create a more immersive gaming experience. In addition, the PS5 controller also features adaptive triggers, which provide resistance to simulate different actions, such as shooting an arrow or pulling a rope.
Overall, the new PS5 controller is a major upgrade from the previous model and is sure to enhance your gaming experience.
Storage – Which PlayStation Has The Most Storage Capacity?
The PS4 has a 500GB hard drive, while the PlayStation5 has a 825GB hard drive. So, yes, the PlayStation5 does have more storage capacity than the PS4. But what does that mean for you? It means that you can store more games on your PlayStation5, and that you won't have to delete as many games to make room for new ones.
It also means that you can download and install larger updates for your games, as well as save more game data. So, if you're looking for a console with more storage capacity, the PlayStation5 is the clear choice.
Games – Is PS5 Compatible with PS4 Games?
One question that many gamers have been asking is whether or not the PS5 is compatible with PS4 games. The answer is yes…sort of.
The PS5 is backwards compatible with most PS4 games, but there are a few exceptions. Games that require the use of the PS4's camera or motion controls will not work on the PS5. In addition, some PS4 games may not run at their full potential on the PS5 due to the difference in hardware.
However, for the most part, you should be able to enjoy your favorite PS4 games on your new console with no problems. So pop in that disc and get ready to game!
Final Verdict
The difference between PS4 and PS5 is that of its capability. PS4 may suit best to your budget, but you might regret not upgrading to the cutting-edge technology of PS5.
As any gamer knows, the decision of which gaming console to buy is a serious one. With so many options on the market, it can be tough to decide which one is right for you. However, if you're a diehard Playstation fan, then the decision is easy: you should buy the PS5.
The PS5 has a built-in Blu-ray player, making it the perfect choice for gamers who want to watch their favorite movies and TV shows in high definition. In addition, the PS5 is backward compatible with all PS4 games, so you'll be able to play all of your old favorites on the new console. If you're looking for the best Playstation experience, then the PS5 is the clear choice.
If you already have a PS4 console, then the upgrade is up to you. You can ask yourself if you need to make the jump to the new console. We hope this PS5 vs. PS4 comparison helps you pick up what is best for you.