Gaming laptops are very famous now but here we will talk about How to play ps4 on laptop or How can we connect PS4 with laptop. PS-4 application is easily used to control your PS-4 with your laptop with the help of simple HDMI. So you can convert your laptop screen into game play screen but its little bit tricky in this article we will guide how you can do this.
So let's start!!!
How to play PS4 on a Laptop Screen with HDMI
To play PS4 games on your laptop is little bit tricky but sometimes you want to play your PS4 games into your laptop so that way here is the brief description about PS4 with laptop. Its just look like converting your laptop screen into a PS4 gaming station.
We try our best to make it as much easy for you to connect your PS4 with your laptop easily and enjoy your gaming without any problem.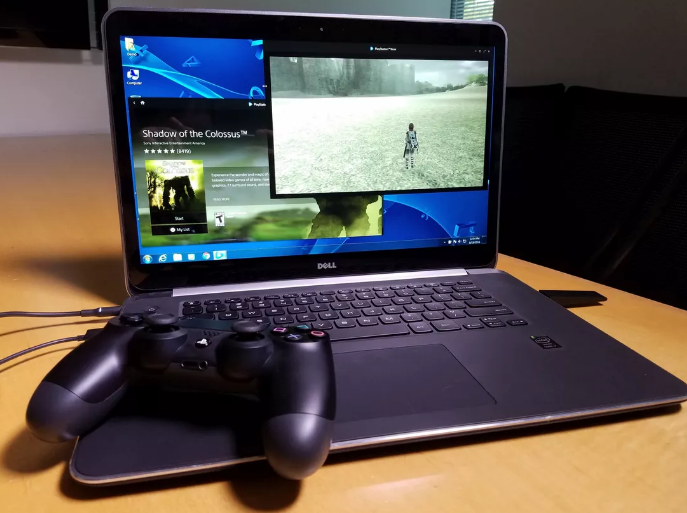 Basic thing that is required for this purpose is your laptop must have video input. In most of case when you have notebooks this task become little bit longer but it is..
If you consider that you can just a buy a HDMI splitter and connect it with your laptop and your PS4 and start gaming then you are wrong! Its not that much easy. Because HDMI cable not provide you two way communication between two devices.
Here we describe two easy way to play PS4 on laptop screen with HDMI. With this Video capture cardmaking its quite easy to play PS4 games on laptop. just you need to follow the simple steps for that.
1. Via Video Capture Card
With video capture card you can easily play PS4 on laptop with HDMI connection.
Here is the thing that is reuiqred for this
PS4
laptop
video capturing card
Internet connection
file sharing enable
HDMI with dual functioning
Once you arrange all this stuff just follow the steps below.
1. Check your internet connection
For enabling file sharing, go to your setting in the PS4 manu then network. Open the internet connection setting and check your internet connection and make sure your device is connected.
In some rare case if you don't have wireless internet connection you can also connect both devices with internet via some ethernet cables and make sure both devices are connected with internet for seamless connection between devices.
2. Install the software
install the software that comes with video capturing card to the laptop via USB port. Card also include s-video connection cable. make sure your card quality is the best other wise you will face some problem in connection.
3. Connect HDMI and PS4 to capture card.
Connect your HDMI with your PS4 console and attached it with PS4 via S-video connection cable. Make sure you attached HDMI-IN on the capture can and HDMI-OUT with PS4 station.
4. Open and Run the software
Last step is to Ru the application comes with capture card and power up PS4. Software will look and show you PS4 screen on your laptop and here ensure one thing that application run in full screen mode display.
Once all process done you can easily play games on your laptop screen. This method is quite expensive but if you are looking for quality connection then this one is the best connection of PS4 with laptop via HDMI cable.
2. Connect PS4 via Remote Play With Laptop Screen (how to play ps4 on laptop)
Remote play is one of the famous method that allow user to play game on their laptop screen. One of the best application that allow you to play PS4 games easily with your laptops screen. What you need to connect remote play with your laptop.
PS4
Laptop
USB cable or USB wireless Adapter
Valid internet connection
When you arrange all these things then it comes to the setup
Step 1 download the App
Go to sony remote play app website and download the latest version of app for laptop. With this app you are able to watch your play station screen on your laptop. After downloading that app run installer and install the app.
Step 2 Enable remote play station option
Go to the setting of your PS4 then into the remote play connection setting. Here check if the remote play is enabled. Its allow you to access the games through your network for this PS4 should be on rest mode or power on mode should be active.
Step 3 Turn on PS4 from Network
Usually its enable but its batter to check it once. So go to setting after that power save setting now set the feature available in the rest mode. and enable the turning mode of PS4 once is activated then you are able to stream your PS4 on your laptop.
Step 4 Setup all settings
After setup all these things you need to transfer from remote play app on laptop. On the left corner of your laptop go to setting options. Here you find the resolution setting that is usually setup 720p but you can also setup the at 1080p as well.
But for higher resolution you need more powerful gaming laptop and also a Pro version of PS4 As well.
Step 5 Connect the USB cable or DUALSHOCK 4
At this point you can use a USB cable to hook up all thing together or you can also use Dualsock 4 wireless connection.
If you want wireless control you need to follow these steps as well.
Hold the down share button on your PS4 station until the light bar start flashing on the controller
Plugin the use adapter into your laptop and hold it in pushing option till it become paired with your PS4.
Step 6 Connect with PS4 Network
now you will see start option in your remote play app on your laptop which you already download. Login to your play station network and click on start button. App will automatically search for available PS4 network and take you to PS4 home screen.
Now the console is being stream on your laptop screen. Now you can also use your laptop mic of keyboard for typing as well.
Step 7 turn off PS4 disconnected from Laptop
Simple to power setting and enter Rest mode this will go to the sleep mode and terminate all your connection with your laptop.
Hope that you find these steps easy to connect your PS4 with your laptop and enjoy your gaming.
Read more about
How to fix memory leaks in window 10
How much storage i need on my laptop